Run. Hide. Fight. LSU Employees Learn Active Threat Response
08/13/2019
On Friday, the day before Hurricane Barry blew into Baton Rouge, LSU employees and staff who registered for a course conducted by LSU's National Center for Biomedical Research and Training/Academy of Counter-Terrorist Education (LSU NCBRT/ACE) gathered at Peabody Hall on the LSU campus.

LSU employees from several departments and colleges participated in the Run. Hide. Fight. class on July 11, 2019
Twenty-two participants learned techniques and tools to keep themselves, their students and others safe should an active threat event occur on campus. The Surviving an Active Threat: Run. Hide. Fight. course was led by LSU NCBRT/ACE instructors. Employees learned the basics of the Run. Hide. Fight. paradigm, which addresses any active threats that may occur. These can include mass shooting incidents, attacks with various weapons or acts of terrorism.
College of Sciences employee Paige Whittington said she learned that survival depends on knowing when the threat is real.
"You learn how much denial affects everything," Whittington said. "Your initial reaction, a lot of situations, you see denial. But, it's better to be protected than ignore it. In this day and age, it can happen at any time."
Ryan Harb is an academic advisor in the LSU College of Education. Harb and others learned to use belts, cords, or anything available to them in the room to help secure a door when someone is trying to get into a classroom to cause harm. Instructors conducted drills in real time scenarios using simulated gunfire to represent active shooter incidents. Participants used tools they had learned in the class to respond, including barricading techniques and other basic skills taught in the Run. Hide. Fight. course.
"I learned a lot today, especially about where we are lacking," Harb said. "And, turns out, there are a lot of things we're missing that are very simple that are actually extremely effective. I learned overall all how to be safer in a place that I already thought I was safe, just by learning new drills and tactics that can overall help."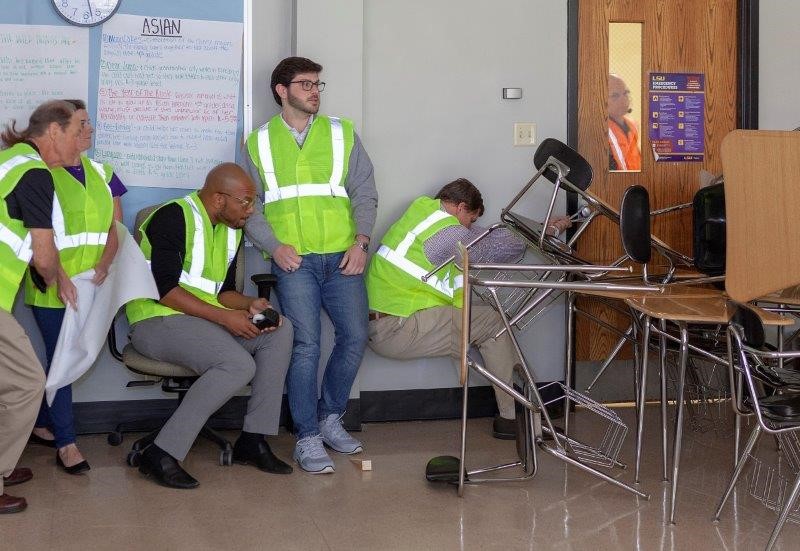 LSU employees practice securing a door under an active threat scenario.
LSU NCBRT/ACE Instructor Chuck Smith is one of more than 300 instructors who travel the country providing law enforcement, emergency personnel and now civilians and educators who work in a campus environment with the latest tools and techniques to respond and survive active threats. Smith and two other instructors led the class in the day long training.
"Today's training was exceptionally well received," Smith said. "The biggest problem with scenario-based training is the buy-in of the students. This group bought in one hundred percent and it made the training more realistic. And, I think, probably allowed them to gain an awful lot out of it."
The Surviving an Active Threat: Run. Hide. Fight. course is certified by the Department of Homeland Security and covered under DHS's Homeland Security National Training Program. As a DHS primary training provider, NCBRT can offer this vital training at no direct cost to your agency. Run. Hide. Fight. is the official DHS response model for an active shooter incident.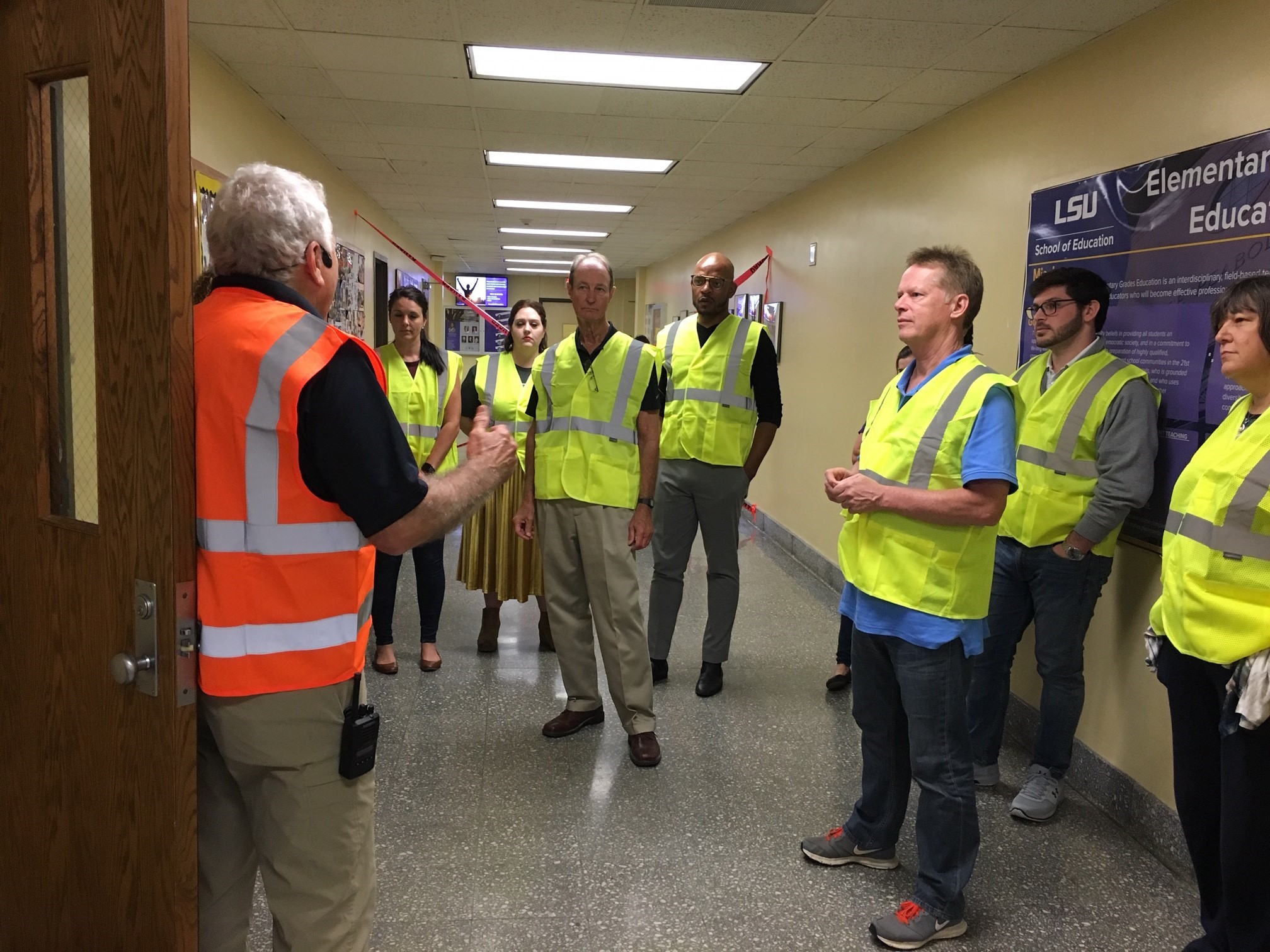 NCBRT instructor Chuck Smith explains the Run. Hide. Fight. active threat scenario to LSU employees and staff.
About LSU NCBRT/ACE:
LSU NCBRT/ACE is a nationally recognized center for emergency preparedness and response training located at Louisiana State University's flagship campus in Baton Rouge, Louisiana. The mission of LSU NCBRT/ACE is to influence, develop, and deliver specialized training and education, providing the skills necessary to prepare for, respond to, and recover from complex threats and high-consequence events. For more information on courses provided by LSU NCBRT visit https://www.ncbrt.lsu.edu/.