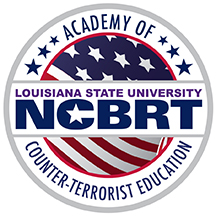 LSU NCBRT/ACE is a nationally recognized center for emergency preparedness and response training located at Louisiana State University's flagship campus in Baton Rouge, Louisiana. We provide mobile training to both the national and international emergency response community. Together with our stakeholders, we challenge ourselves each day to influence human safety, security, and resilience in a positive manner.
As the future changes our lives daily and delivers complex challenges which threaten our personal, national and international safety and security, we at LSU NCBRT/ACE instill a devotion of excellence in our work toward a culture of resilience, preparedness, and response capabilities which are second to none.
We continuously develop new and innovative approaches to new world problems capitalizing on our successes, failures we observe, and ever-evolving complexities that seem to envelop our day-to-day lives. Whether it is protecting our children in schools, training responders in new and advanced approaches, or lending our expertise to foreign allies, we remain committed to development and delivery of the best training and educational practices to maintain our values and freedoms.
The ability to deliver advanced national standards of training to state, local, tribal and territorial jurisdictions is the building block of successful integrated responses to high consequence events, preventing and deterring plots of terror, and maintaining a safe and resilient society. As these events ever change so must the tactics we develop to foil and lessen their impact on the world.
We work collaboratively with our stakeholders and challenge ourselves daily to positively impact human safety, security and resilience.
Vision
The vision of LSU NCBRT/ACE is to reduce threats to human safety, security, and critical infrastructure globally.
Mission
The mission of LSU NCBRT/ACE is to influence, develop, and deliver specialized training and education, providing the skills necessary to prepare for, respond to, and recover from complex threats and high-consequence events.
Expertise
LSU NCBRT/ACE has expertise in research, development and delivery of training in the areas of specialized law enforcement operations; biological incident response; food and agriculture safety and security; and instructional design and technique. We also have diverse experience in technical assistance, project development, and instructional design and program evaluation. We work with both public and private sectors around the world, providing customized training to suit individual needs.