LSU NCBRT/ACE Conducts Oklahoma's Largest State-Wide Active Shooter Training
September 12, 2023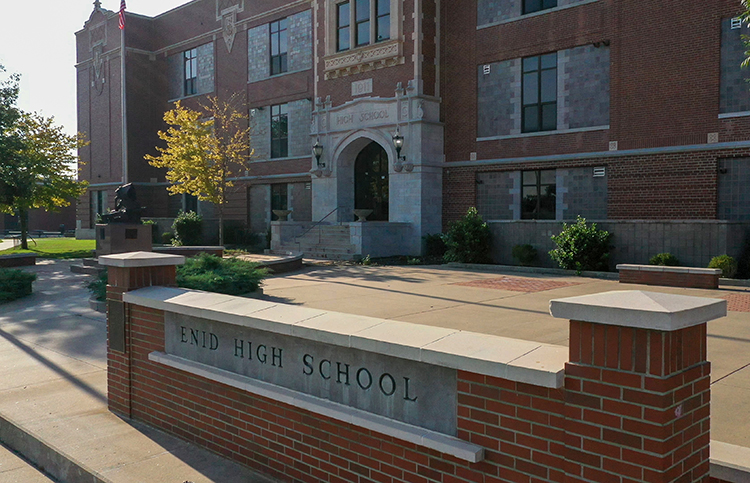 On Friday, September 1, the LSU National Center for Biomedical Research and Training/Academy of Counter-Terrorist Education, in partnership with the Oklahoma Highway Patrol and the Oklahoma School Security Institute, delivered its course, Surviving an Active Threat: Run. Hide. Fight. for over one thousand employees of the Enid Public School System.
The classes were held in 15 locations around Enid and were the largest active shooter training event ever held in the state of Oklahoma.
"I have wanted and requested this type of training for years," one participant said. "I am so happy and grateful for this training today. Every minute of today's training is valuable to me and something I will think about on a daily basis."
Because active threat incidents can occur anywhere, this course addresses the Run. Hide. Fight. (RHF) response paradigm and guides participants through the various ways to respond to an active threat.
"It helped so much to have law enforcement come and model the best ways to protect ourselves and others in our own building," another participant said. "I can't tell you how much better and safer I feel from this experience! I'm much more confident if I find myself in this type of situation. This has been one of the best trainings we have done."
The RHF classes for Enid schools were just one aspect of a much larger partnership LSU NCBRT/ACE has formed with the state of Oklahoma. The state has adopted a number of LSU NCBRT/ACE's courses as standard training for their law enforcement academies, and in July 2022, Governor Kevin Stitt signed an executive order requiring all troopers in the Oklahoma Department of Public Safety to be trained in LSU NCBRT/ACE's Law Enforcement Active Shooter Emergency Response course.
Media Highlights:
https://okcfox.com/news/local/enid-public-schools-conduct-largest-state-wide-active-shooter-training-for-staff-and-teachers-oklahoma-okc-trooper-ohp-police-shooting-school-classroom-choctaw-uvalde#
https://www.news9.com/story/64f275d67dcc9e072777fb36/run-hide-fight:-enid-school-employees-learn-how-to-respond-to-active-shooters
https://www.enidnews.com/news/eps-staff-learns-protection-techniques-in-shooter-situations/article_c85497fa-48f9-11ee-b444-6b80a7020b57.html
https://www.facebook.com/EnidPolice/posts/pfbid02Essf1byLTyCc6DckMxVxSsWJ241LpVJU5pyP6UG2d5VgMSpMrUC7yrVC3DbSx7n2l
https://www.koco.com/article/oklahoma-enid-public-school-teachers-active-shooter-training/44977824
https://www.facebook.com/enidpublicschools/posts/pfbid0vEocw6mc49S2cJQu2FiQJ2g4X8k4BNw8Yie7Sm1dUum8Ui4FCYSKsYJEWT7DTKGtl
https://www.facebook.com/Talk100.9KGWA/posts/pfbid02fuVjZApysiriKzSwm6zHLyKWv4nePZN1vzDiMMnmbSNT5ZR2tjckWxYSbywxdg5Bl
About LSU NCBRT/ACE:
LSU NCBRT/ACE is a nationally recognized center for emergency preparedness and response training located at Louisiana State University's flagship campus in Baton Rouge, Louisiana. We provide mobile training to both the national and international emergency response community. LSU NCBRT/ACE has expertise in research, development and delivery of training in the areas of specialized law enforcement operations; biological incident response; food and agriculture safety and security; school safety; and instructional design and technique. For more information on LSU NCBRT/ACE's courses and resources, please visit ncbrt.lsu.edu.